Empowered with Your Own Bank/Cold Storage Crypto Wallet.
Crypto Bank© is made up of instructions, accessible to you right after purchase. The instructions allow you to setup a Cold Storage Bitcoin (BTC), Ether (ETH), Bitcoin Cash (BCH) wallet. This is a money saving, more secure and more private way to store your value, like a savings account you create and manage. Send and receive Bitcoins to it today!
Save up to 7% on sending money overseas
You can save up to 7% on sending money overseas by using Crypto Bank©. You can save on transactions using Crypto compared to cost of using Bank Wire, Paypal and Moneygram.
Save up to 3% on receiving money
An example of an online Bitcoin Cash (BCH) wallet's use. If you are a business planning to or currently receiving over £4,000 p.m then you know that payment processors and bank charges are currently between 3% to 7% for merchant services to process fiat currency payment. They include % of each sale, flat per-transaction fee, exchange rate, equipment rental, monthly minimum and charge backs. Not to mention any additional bank fees or the possible freezing of your business bank account until you comply with their latest KYC AML or any other alphabet soup acronym invented to bring about outright confiscation of your money.
Further barriers for web-only and telemarketing businesses exist as they are considered "high risk".
Accepting Bitcoin (BTC)/Ethereum (ETH)/Bitcoin Cash (BCH) could be the solution for you, however storing these online, whether it be in an e-wallet, payment processor, broker, exchange or with a custodian has inherent risks. You may be aware that some of these on line facilities have been hacked and BTC stolen and gone forever. Crypto Bank© is a cold storage/offline solution designed to empower you to be your own Bitcoin (BTC)/Ethereum (ETH)/Bitcoin Cash (BCH) bank and have complete secure 24/7 control over that online although you hold it in your own Cold Storage. It is not held or provided by us, but we provide you with detailed instructions on setting up! Not to mention the time and huge financial savings that could benefit your business instead of merchant service provider. Note Bitcoin (BTC) transaction costs (average $34 at time of writing) and processing times (average 4 hours) have risen intentionally to manage the huge volumes. However Bitcoin (BTC) is now being used more as a store of value.
Is it sensible
to pay insolvent banks to hold your currency? Negative interest rates are now common.
to lend your savings to insolvent governments for 10 years at 2% interest or less when history shows us that the purchasing power of the currency will decrease far more than 2% per year?
that the time value of currency is effectively zero? Zero or negative interest rates are not a sign of economic health.
to offer your funds for merchants and banks to freeze them and confiscate them?
to trust exchanges to hold your crypto with the risk that they are using a fractional reserve system. That is like holding gold at the banks, who confiscated it from depositors in the 1930's!
to not have your private keys? If you don't have the private keys they are not your crypto!
to hold currency that is unlimited in supply and likely to loose it's value. Ask yourself where the smart money flowing?
Advantages of Crypto Bank© to anyone
Can be used as a secure private liquid debt free store of value for your Bitcoin (BTC)/Ethereum (ETH)/ Bitcoin Cash (BCH).
Use same address for sending /receiving Bitcoin (BTC)/Ethereum (ETH)/ Bitcoin Cash (BCH).
SegWet enabled. Therefore if you held Bitcoin (BTC) on this wallet before each respective fork, you will have been rewarded an equal number of Bitcoin Cash (BCH), Bitcoin Gold (BCG). So receive new coins as per upcoming BTC forks!
Asset diversification.
Sounder monetary systems. Bitcoin has evolved from a Store of value- to save with. To a Medium of Exchange- to buy with. To probably a Unit of Account- used as global reserve money while deposing central banking!?
Dilute your political risk.
Make transfers to any Ethereum (ETH)/ Bitcoin Cash (BCH) address within 1 hour.
Ability to act quickly without limits on minimum or maximum transfer amounts.
Savings can be held in deflationary money in Bitcoin (BTC)/Ethereum (ETH)/ Bitcoin Cash (BCH), without ongoing maintenance fees.
It can work along side other forms of payment.
Maintain more privacy.
Maximize your personal freedom.
Eliminate recurring transaction costs for receiving payments.
Eliminate electronic transfer costs by paying/sending Bitcoin (BTC)/Ethereum (ETH)/ Bitcoin Cash (BCH) globally. This is much cheaper than using a traditional money transfer service.
Eliminate currency conversion fees.
Eliminate charge backs for merchants.
Eliminate fraud as transaction tracking is open ledger.
Eliminate negative bank rates that savers will have to pay banks for holding their money.
Speed up transaction time. You can see unconfirmed transactions immediately and confirmed in about 15 min to an hour.
Tap into a growing market population that are holding Bitcoin (BTC)/Ethereum (ETH)/ Bitcoin Cash (BCH) and looking for useful ways to spend them.
Accept/earn payment in a Bitcoin (BTC)/Ethereum (ETH)/ Bitcoin Cash (BCH) that is growing in value (deflationary) relative to every other asset class. You could be accepting 1 BTC today which is valued at $17000 (was valued at $0.03 in 2009 on launch) and is estimated to be valued over $100,000 over next few years! This is better than the loss of buying power fiat currency is currently experiencing. Here is where USD purchasing power has been and is most likely going.
Check your transactions, receive and spend of Bitcoin (BTC)/Ethereum (ETH)/ Bitcoin Cash (BCH) through almost any internet device.
Effortlessly cold self store your Bitcoin (BTC)/Ethereum (ETH)/ Bitcoin Cash (BCH) securely off line!
Eliminate risk of loosing your Bitcoin (BTC)/Ethereum (ETH)/ Bitcoin Cash (BCH) associated with storing them with an online wallet/exchange (that is off blockchain) that could cease trading like MT Gox or the theft of 19,000 BTC from Bitstamp.
Eliminate risk of loosing your Bitcoin (BTC)/Ethereum (ETH)/ Bitcoin Cash (BCH) even if we or wallet provider cease trading.
Eliminate the restrictions of cross border travelling with cash, gold.
Eliminate the difficult bank KYC and AML inquisition every time you want to transact with your own fiat currency.
Eliminate the difficulty in opening merchant/bank account for new businesses considered to be high risk such as those involved in Telemarketing, Gambling, Adult, Dating agencies, Escort agencies, Licensed Hemp dispensaries in U.S.A.
Can make transactions anonymous by combining with tumbler service.
Following our step by step set up guide takes about 1 hour once you have your Bitcoin (BTC)/Ethereum (ETH)/ Bitcoin Cash (BCH)!
No one can take or freeze your funds as you will be solely responsible for the safety of your own wallet.
Fairer and less opaque financial system with use of "Smart Contracts".
No monthly fees.
No purchase of any other service required.
Set up support included via skype or email.
Your Crypto Bank© wallet is as simple as a single pairing of an address with its corresponding Private Key. Below is an examples of a wallet with no funds in it.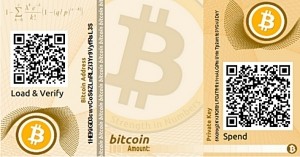 Send and receive BTC/ETH/BCH to your offline address today. Setup your wallet that will be created and owned by you by following Crypto Bank© written instructions.
If you don't already own Bitcoin (BTC) then you will need to go to an exchange such as LocalBitcoins to buy them, or visit our FAQ 12. Then return here to order once you have your Bitcoin (BTC).
Crypto Bank© for $295 in BTC
Crypto Bank© with Press Release and Media Distribution for $395 in BTC
TERMS
This content does not constitute an offer, solicitation or recommendation to acquire or dispose of any investment or to engage in any other transaction. This service is only an informational memorandum. Your purchase of this Crypto Bank© informational memorandum is NONE REFUNDABLE. Information is not guaranteed to be free of errors. Ordering any service from TechMonegy Ltd means you explicitly accept this risk warnings and Our Policy. It is the responsibility of the individual user to consider his legal and regulatory position in the relevant jurisdiction, the risks associated with trading and to ensure that the use of the content and the subsequent making of any investment does not contravene any such restrictions or applicable laws and regulations of any jurisdiction. Your participation in any of our services constitute that you indemnify TechMonegy Ltd (It's directors, contractors and affiliates) from incidental, indirect, special or consequential losses and damages of any kind. Therefore beware of phishing attempts. Crypto Bank© is a service of TechMonegy Ltd. We will never ask you for your crypto wallet "private key". By acquiring any of our services you are declaring you understand and accept the terms herein. Under no circumstance are TechMonegy Ltd responsible for Crypto Bank© clients loosing their Bitcoins/Ether. Please seek the advice of professionals, as appropriate. I confirm my citizenship complies with this list.